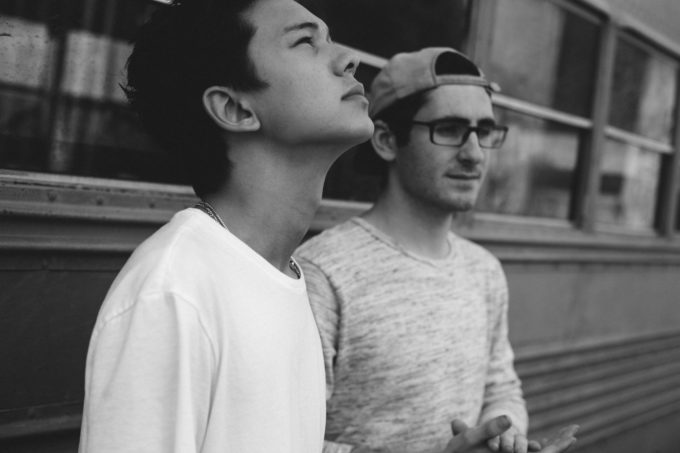 For Albany, New York musicians Alex Magnan and Gabe Pietrafesa, the past year has flown by in the blink of an eye. Their band Young Culture exploded, quickly taking their local music scene by storm.
The duo prides themselves on good vibes and great times, with some upbeat music to tie it all together.
While on the road, the band huddled in the back of their tour van and spoke with us about tour life and their goals as musicians.
AS: Tell me about the history of your band, where did Young Culture start?
AM: If I'm looking back properly, I would say this all started back in 6th grade. I remember meeting Gabe and thinking "I have got to be friends with this guy. He is so cool." He always had great style and was really outgoing. He wasn't totally a musician yet. Because I wanted to play in bands with him I decided to teach him [bass] myself. Gabe picked it up so fast and totally grew into this insane musician, and now we're on tour so it worked out.
GP: Once we got to middle school we became fast friends, and did everything together; though we didn't start playing music together until later, when Alex started teaching me bass. They wanted to put on a talent show and Alex casually asked me if I wanted to play bass, and it took off from there. Soon we were recording EP's and playing shows together. Now we're out on the road, which is pretty cool.
Young Culture is Alex and I, with our band behind us. Our band is a fantastic support system for us and they drive us to be better.
AM: The crew that we are touring with right now is awesome; they're all like our brothers at this point.  We consider ourselves pretty lucky.
AS: Who are your inspirations for yourselves, and for your music?
GP: I think Alex has introduced me to so many different bands and artists over the years, especially when we were younger. I've taken a lot of influence from older pop punk bands like Fall Out Boy and All Time Low; all of those pop-meets-punk bands. We really bonded over that kind of music and a lot of those bands back in the day. As we get older, I think we still appreciate that music, but our interests have greatly expanded.
AM: I think we are influenced by the culture behind a lot of bands and musicians as well, and not just the music itself. A great example is The 1975, their aesthetic is a huge part of their band and I can really appreciate that.  When you're in a band, you try to brand yourself and set a mood for yourself. I can really respect artists who have that all figured out.
AS: What is your favourite song to play live, and why?
GP: We have our record, You, out now. That has eight songs on it; which are all really fun to play live; but we went back to the recording studio in January and we actually have been playing a couple of songs from our newest recordings, and they're just a blast to play live. They're fresh and different, and our fans haven't heard them before, so it's awesome to see what their reaction is. One of our most popular songs is called "Bedroom Floor." It's great to play because kids always know all the words and they get really excited when the song starts.
AM: I think "Ready For You" is one of my favourites. In my opinion, it was one of the best things I've ever written as an artist. I felt like it captured us as a band and it's just really catchy. Our crowds are usually pretty energetic overall, so the entire experience is a real high for us.
If anyone can make a personal connection to something we've created, that's absolutely huge for us.
AS: How is tour going for you guys? Are you enjoying life on the road?
AM: Oh man, it's amazing. Our band has been together for a little over a year now, and it's crazy to think we are already touring. I have friends in bands who wait years to tour, but we just completely jumped right in.
Joe Day, our tour manager, has been a complete blessing for us. He's such a great guy and his knowledge of music and touring in general is pretty incredible. Like I said before, we've become brothers travelling like this. The friendships we've made since leaving home have totally changed us as people, and as musicians.
GP: It's cool being able to go to places you've never been before, and see cities you probably wouldn't see otherwise.
One of the most rewarding things about touring is being able to meet new people and fans and create all of these new bonds along the way. It is such a motivation for us when we see people come out to support us and what we love to do; nothing tops that.
AS: What do you guys want people to take away from your music?
GP: I just want people to relate to it somehow. I want people to make it their own; to dance along to it and feel good while they listen. We're just guys who play in a band and we love making music. We want as many people as possible to feel like they're apart of it.
AM: If anyone can make a personal connection to something we've created, that's absolutely huge for us. Musicians can't ask for more than that. We want to make people feel good and happy, because that's how we feel while playing it.
Check out Young Culture at Facebook.com/YoungCultureNY or through twitter and instagram @youngcultureny. Check out their music at Soundcloud.com/YoungCultureNY.
---
Comments: